News and events;
DeYoung Museum Portrait Invitational
Very pleased to be included in the DeYoung Museum's
Web Gallery Portrait Show with local artists.
https://picturesofpeople.artcall.org/pages/web-gallery?fbclid=IwAR3CCCK9OjsbXyTLR-mtdEy9DSsOBe6veCPxUgPbhZXvghAUAHcnsGdI8WU
My portrait called "Missing Stefen"

As we adjust to the changes in the pandemic and as I have been going out less I've had plenty of time with fewer distractions. Studio time has been inspiring as I look through my abundance of materials and keep putting things together…more surreal landscape dioramas finishing up.
Enjoying that.
Here you go, a teaser of what's coming:
"Vacation", mixed media diorama, 7″ x 9″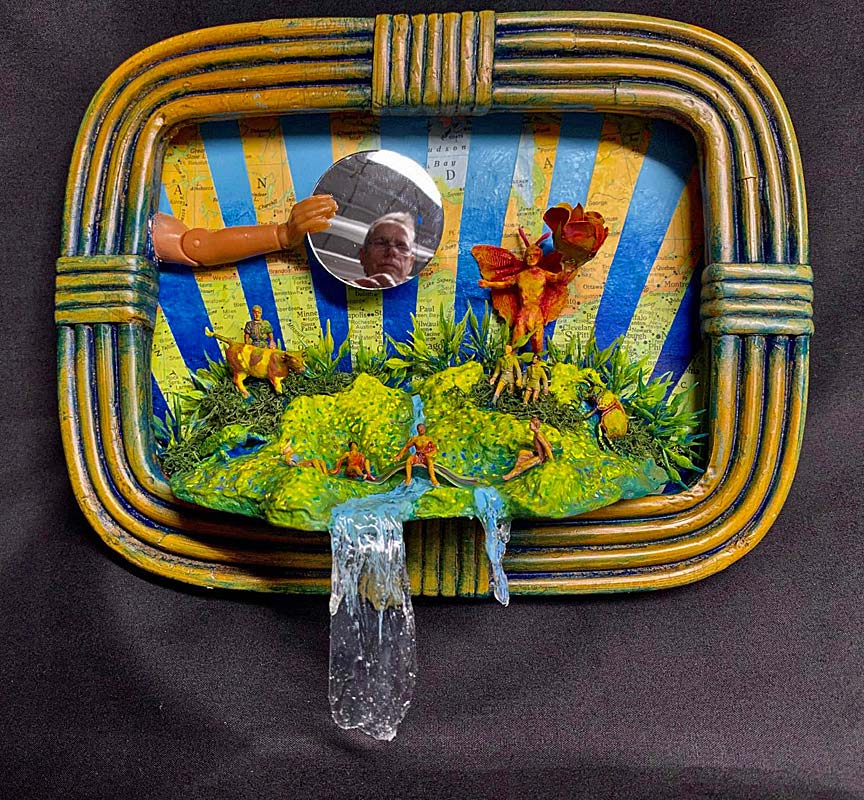 I am very pleased that my work "Celebration"
was accepted by the UCSF jury for the Art For AIDS Fundraiser;
happy to support a very good cause. Great auction and somebody got a deal!
On the backs of the Thrift Shop Renewal series I try to leave the price tags
and any info stickers for provenance…love that this is labelled "Bric a Brac".

Mid November…spending time reorganizing the studio and
continuing my Thrift Shop Renewal Series.
Here's a new one; Jamboree!

I'll be showing my "Thrift Shop Series" along with other works on:
October 10, Sunday, at the Street Salon hosted by Thomasina DeMaio: Noe St and Beaver.
Come join several local artists as we strive to entertain! Come for the fresh air, stay for the colors.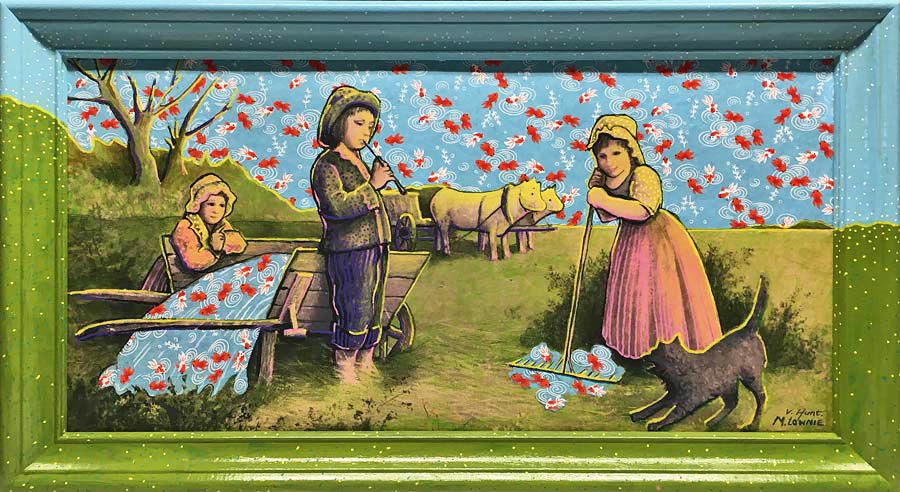 August 2021, Welcome!
As we guide ourselves through the continuing epidemic you'll find me quietly working away in the studio. I'm excited about my latest series of finding old abandoned prints at thrift shops and adding the Lownie touch to them; stenciled patterns and fun colors give them new life as well as continue my "Something in the Air" series. Enjoy!


SUNDAY (April 18, 2021) AT 11 AM – 5 PM
ARTSAVESLIVES SIDEWALK SALON ;
Noe St @ Market
social distancing and masks required,
bringing our art outdoors once again!
Happy 2021!
Going on a full year of "Sheltering in place", this situation has inspired several "Something in the Air" paintings. Thinking viruses mainly but holds true too for any particulates.
Here is "Something in the Air" # 3…I just feel surrounded by the stuff!
Enjoyed showing at Live Worms Gallery in North Beach, twice.
Elizabeth runs the place beautifully.
I hope to show again after I get my second vaccine shot.
To get a better look at my Quarantine Diorama check out the short video on Youtube.
This has kept me busy during our Shelter in Place.
https://www.youtube.com/watch?v=7MnoY5_obTE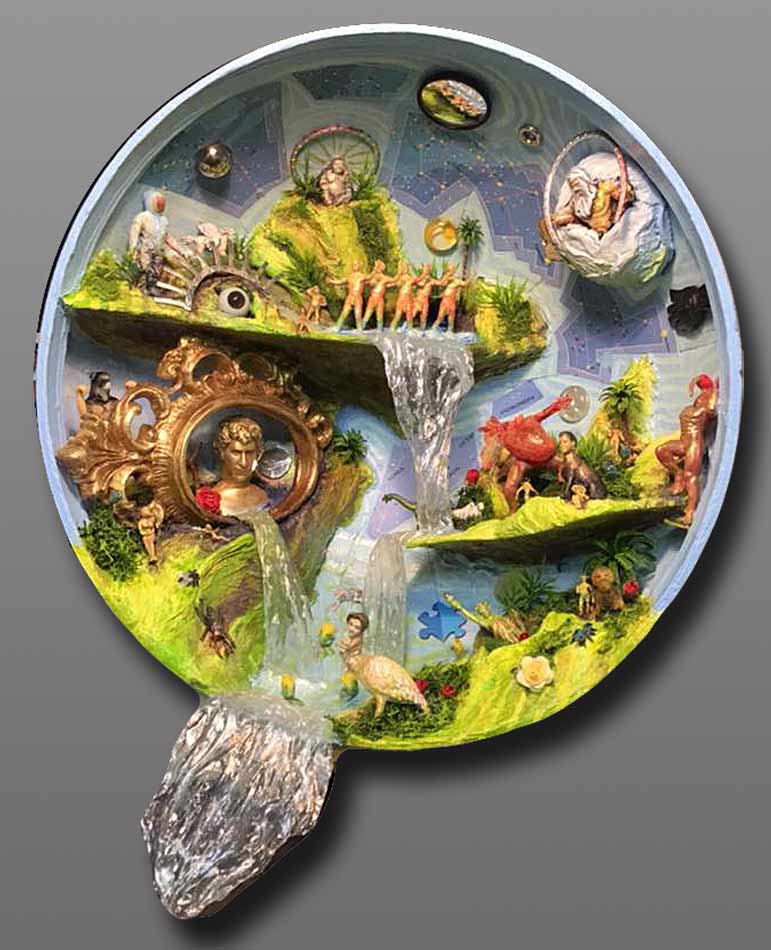 The Apothecarium!
It's been a great space to show, lots of excitement over this series.
Excited to have been chosen for a solo show at the Apothecarium!
December, now, through February 5th, 2020.
I will be there to host a Castro Artwalk on Thursday, January 2nd.
I welcome questions and comments about the work.
I'm very pleased with the way this show of my Mandala/ Kaleidoscope paintings came together.
Please check it out; it's great seeing them all together.
Thanks all! Happy Holidays.
The Apothecarium
2029 Market St, SF, CA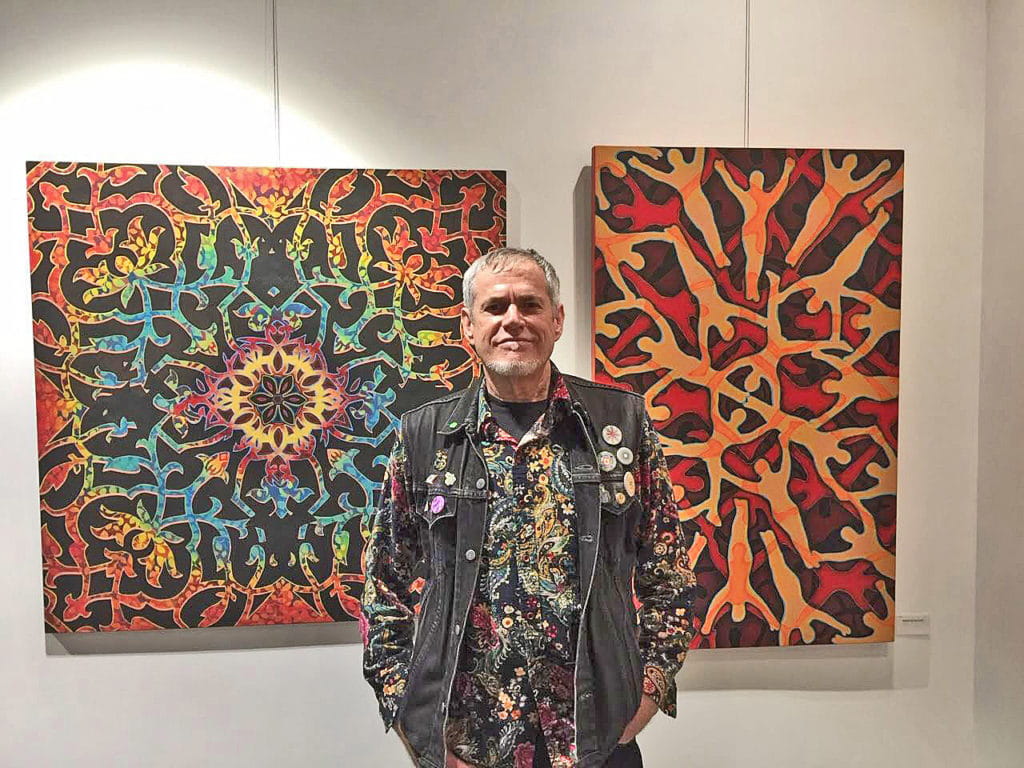 Update, August 2019
Due to a pinched nerve and limited mobility in my hand I've had to adapt my projects.
I've started a series of miniature 2 to 4″ dioramas in half globes. Very fun using toys and found objects.
Will post more soon.
Here is a 2″ wooden sphere, "A Walk in the Park"

and here's a 4″ plastic half globe, "Sea Hunt"
In honor of the 50th Anniversary of the Stonewall Uprising
I am included in this beautiful juried show up June and July 2019.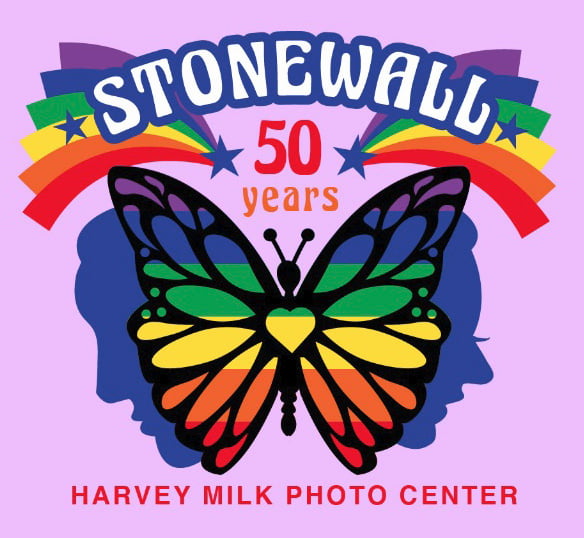 2019! Another busy year ahead.
Happy to be jury selected for a couple shows so far.
I have submitted for a materials grant from Visual AIDS to access a little help for materials.
I have exciting plans for some more round and otherwise shaped canvases.
Watch for new work soon!
Keep your eyes peeled for the annual Visual AIDS Postcards From the Edge
It's a fun creative fundraising event
The 2019 event will be held FEBRUARY 22-24 at BORTOLAMI, 39 WALKER STREET, TRIBECA
You may luck out and get an original Lownie!

Excited to be preparing for a December group show at Spark Arts
Opening reception Thursday, December 6th, 6-9:30 pm
(show is up through the month of December.)
4229 18th St, San Francisco, California
My diorama/ music box California Dreamin' will be making its debut.
Special Thanks to Thomasina DeMaio and Art Saves Lives!
Currently showing at Harvey Milk Photo Center:
It has been a busy couple of years since I hooked up with Castro Street ArtSavesLives Gallery and studio!
It is now March of 2018 and I've taken some time off from exhibiting so I could focus just on studio time.
It's been very productive!
I do have a show planned for June so stay tuned; all new works, painting and mixed media coming soon!
Here are some of the smaller new works in progress;
New works coming to the web site soon.
Thanks all who checked out the June Show; what a terrific crowd for the opening. Happy Pride!
May Show Up now!
I'll also be in the June group show; it's a very fun informal venue.
May group show at the Castro Street Art Saves Lives Gallery, 2017
518 Castro St (near 18th St)
San Francisco, California

Please come by and check it out! Over a dozen local artists; great variety.
Gallery hours 12-4, closed Sundays and Mondays
I have been invited to show again! Loving this, right in the heart of the Castro.
Happy New Year 2017!
Happy to announce that I'll be in a group show at the Art Saves Lives Gallery In January 2017
518 Castro St
San Francisco, California

Please come by and check it out!
Opening party January 13 is a salon style cabaret with refreshments and entertainment.
Gallery hours 12-4, closed Mondays
Hope to see you there.
I'll be showing works from my latest Painted Kaleidoscope series along with
a few of my resin "action Figure" series:
Here we are at the end of another year;
This year I am grateful and excited to have traveled frequently which has been a priceless source of inspiration.
Starting with New Orleans, then Belize and Guatemala, followed by Taos, New Mexico and finally
Paris and Barcelona.
As a side project I have used the travel photos as a resource in creating a series of photo kaleidoscopes.
These have been exciting for me to see the world in a new form, multiples!
Just a sample shown in this news post of what has inspired me to print a book full of these surreal worlds.
…Looked back to Bali for some foliage shots: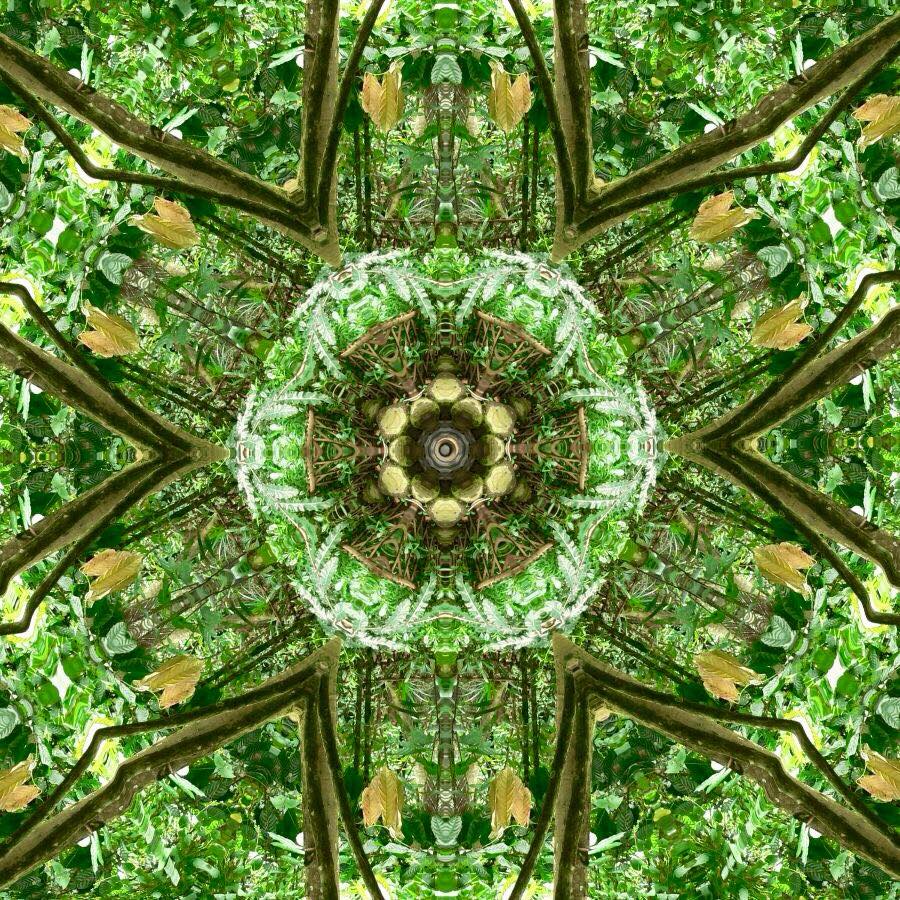 Bali sacred offerings:

Recognize Gaudi's Spires from Segrada Familia?

••••••••••••••••••••••••
I had a very fun visit to Taos for the opening of a national juried show called "After Dark IV" at Greg Moon Gallery in Taos New Mexico.
which included my work "The Jester".
June 6th – 27th, 2015

109 Kit Carson Rd.
Taos, New Mexico
"The Jester"
••••••••••••••••••••••
March 2015
Had a wonderfully inspiring trip to New Orleans


I believe it will inspire new dioramas… I'm thinking tiny this time. Stay tuned!
Highlights were the live music everywhere, the cemeteries, and a wonderful little gallery you should check out: Red Truck Gallery
They have a really fun variety of thoughtful works.
http://www.redtruckgallerynola.com/
••••••••••••••••
December 2014; Conclusion to a terrifically productive year.
New works finishing up NOW! Will be taking shots of the new works and posting them within the week.
A Moment of Gratefulness
………..
I welcome fall! I'm busy in the studio making new works and keeping my
eyes peeled for exhibition opportunities!
I have a lot of new works ready to show and want to see them in a variety of environments.
Ready to create a galaxy of hanging and standing globes and dioramas, pulling together a new environ.
Having a ball with my action figure series; please check my action figure gallery page for the newest works.


"Why? (Because We Like You!)", tribute to the boomer generation
…….
Nice show last summer I was happy to be in.
Archangel Art Collective in Palm Springs, CA
1103 North Palm Canyon Drive, Palm Springs, California 92262
"Fifty Shades of Great": June 20th thru Sept. 17th 2013, Artists Reception June 20, 5-9 p.m.
New Publication:
Excited to have my work "Trinity" included in the new book; "Positive Pictures, a Gay History"
Hardcover: 224 pages Publisher: Bruno Gmunder Verlag Gmbh, Berlin (March 1, 2013)
••••
Happy 2013!
I am currently working on more of my action figure series as well as editing some older paintings. After some time has passed, I see how I can refine and reformat them to make them even better as my vision on composition changes. Some of the beautiful technique deserves to be reused and emphasized.
Please stay tuned!
Vitruvian Man: polyester resin, wire, silver leaf, 12″x12″x4″, 2012
……

September 22nd to October 23rd, 2012: Group LGBT Show
……
Michael Lownie's one man show at Magnet
This show will combine works from both the globes series and the action figure series.
Opening reception, Friday August 3rd 2012 8:00-10:00pm.
Through August 31, 2012
MAGNET: 4122 18th Street, San Francisco, CA 94114
Hours: Tue 11 – 6pm, Wed 2 – 9pm
Thu 2 – 9pm, Fri 2 – 9pm, Sat 11 – 6pm
Presenting a series of new work (experiments with mixed media) focusing on a giving a new twist to "action figures".
This is the culmination of about 3 years in developing 2 series very different from my traditionally abstract paintings.