Artist at Work, Bio.
Born in Western New York, 1952
Moved to San Francisco initially in 1969 to check out the Hippie scene.  "Counter culture" has always had an adventurous element that inspires me.
I am a San Francisco based artist with an extensive retrospective of work particularly in painting although currently I have added mixed media works to my studio work .
The Globe Series has me experimenting with mixed media in 3-dimensional works. The creation of the intimate dioramas invites the viewer "inside" the works which adds an element of intimacy.
 The Action Figure & Toy Series continue my mixed media explorations and inspire while developing new contexts for these whimsical iconic playthings adding layers of meaning.  The dioramas tend to be surreal fantasy lands.
Though also trained in realism, I began to explore abstract painting because it was the strongest intellectual influence on me when I was young. As the popular art in museums from the 50′s through the 70′s, it showed me that there was more to art than just painting a pretty picture.  That whole era stayed with me and I still find it relevant today.  There was as real an excitement about underground and avant garde artwork as there was in music, which was also waking me up to a wider consciousness.
The intellectual and primal aspects in Modern Art really helped form who I am today.  It inspired me to think about new art, and understand the importance of subtle (and not so subtle) social implications it addressed.  Minimalism, Expressionism, Pop, Color Field…this was the world that said to me, "there's something important here…adventure, discovery, experimentation, meditation". The purpose of art changed through these movements and continues to morph into new and thought provoking directions.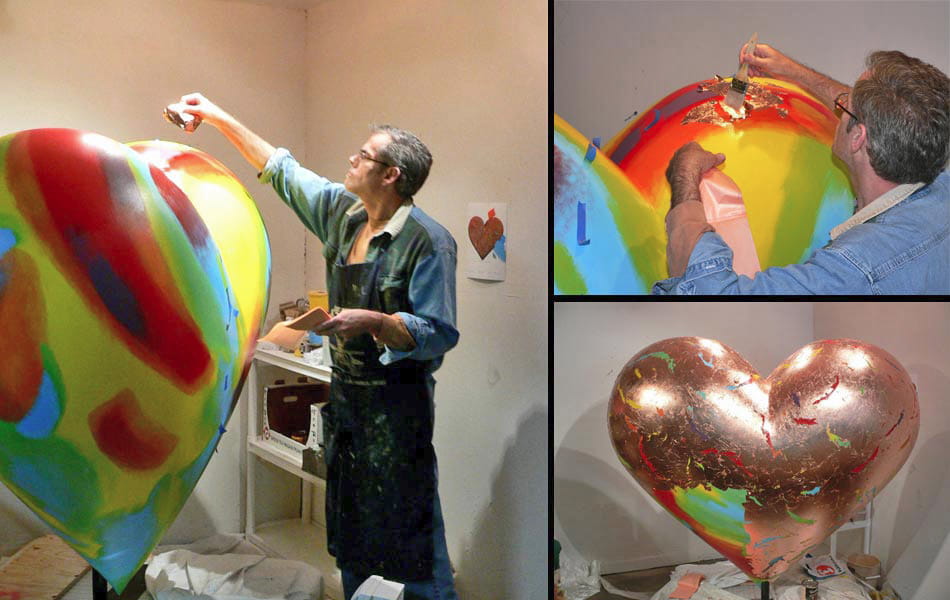 Hearts of SF Project benefiting SF General Trauma Center , applying torn copper leaf over acrylic underpainting on fiberglass heart. Collection of Intel.